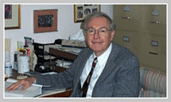 BIOGRAPHY
Allan D. Lieberman, M.D., F.A.A.E.M.

Allan D. Lieberman was born and raised in New York City. He attended magnet schools in his early years and by age 14 chose to become a doctor.

He graduated from New York University's College of Arts and Sciences with a total of three majors: in chemistry, biology, and political science. In 1960, he earned his Doctor of Medicine degree at Chicago Medical School and continued training at Mount Sinai Hospital in Chicago, IL, in the practice of General Medicine.

Because of his passionate interest in both research and the needs of children, he went on to take specialty training in pediatrics and pediatric pathology at the Children's Memorial Hospital in Chicago. During his early years in training, he co-authored multiple papers in clinical pediatrics and worked in collaboration with the Department of Pathology in hepatitis virus research, as well as participating in early clinical experience with the new measles virus vaccine.

In 1964, he joined the United States Navy Medical Corps and served two years of active military duty as Chief of Pediatrics at Charleston, South Carolina's Regional Medical Hospital. During those years, he became interested in the problems of mental retardation and after his Navy duty became the Medical Director of the Vince Moseley Diagnostic and Evaluation Clinic for the Neurologically Handicapped at the Medical University of South Carolina. Ultimately he became the Medical Director of South Carolina's newest institution for the medically retarded and neurologically handicapped, The Coastal Center. While directing The Coastal Center (1966 to 1971), he developed a research protocol for the treatment of Down's Syndrome and worked to establish the first state registry in the nation for this chromosomal abnormality.

From 1971 to 1977, Dr. Lieberman enjoyed the private practice of pediatrics, sub-specializing in the academically underachieving child. Further clinical experience led him to recognize the importance of environmental triggers in alterations of thinking, perception, mood, and behavior in children. In many ways, he says, this new focus and recognition of environmental causes behind whole multi-system effects on children led him to start what he terms his "second career." Ever the researcher, he had to pursue what he found in clinical practice to be most scientifically valid. He embarked on re-training in the new field of Environmental Medicine, and enlarged his practice to treat patients of all ages, from infancy to the elderly.

After many years in the practice of this new specialty, Dr. Lieberman was awarded Fellowship in the American Academy of Environmental Medicine. Always seeking to meet the broad spectrum of needs of his complex patients, he built the Center for Environmental Medicine in 1978. (The name was changed to The Center for Occupational and Environmental Medicine in the 1990s.) The construction of this facility was a huge undertaking, requiring special care in the choice and use of building materials (very difficult to find in the 1970's) and, thereafter, any materials used to maintain or clean the finished structure. "The Center" became the first facility in the Southeast designed to be an environmentally safe haven for the chemically sensitive patient.

He also continued his passion for research and joined Milkhaus Laboratories in 1980 as a research scientist. One of his proudest career accomplishments with Milkhaus has been to help develop the exciting new therapeutic concept of Molecular Signal Therapy. Using Signal Therapy has enabled him to help many patients with neurological disorders like autism and degenerative nerve diseases. He holds several patents on some of these unique molecular signals.

With the opportunity to be cared for in an environmentally safe facility, more and more chemically sensitive patients sought help from Dr. Lieberman for their debilitating sensitivities. With these patients' needs in mind, in 1987 he developed the Intensive Program for Biodetoxification, to help those who had been poisoned by chronic or acute toxic chemical exposures safely detoxify and recover. This program required a separate extension of The Center's facility, expanding the building to 6,500 square feet of environmentally safe, specialized treatment areas (and later, nearly 10,000 square feet). The Intensive Biodetoxification Program was the third of its kind in the entire nation and the only one in the Southeast at the time.

Running parallel to these developments in his own private practice and research, he worked to further the development of the whole field of Environmental Medicine. He saw an obvious need for peer recognition and review of physicians wishing to practice in this new field, and he pioneered the establishment of the American and International Boards of Environmental Medicine, becoming ABEM's first president from 1988-1996. The Boards helped to create new standards in the field of Environmental Medicine. Because of his training and experience in toxicology, Dr. Lieberman was also appointed Program Director in Toxicology for the American Academy of Environmental Medicine.

As the years have passed, the tide of patients is again turning to include more and more pediatric cases—now children with the full spectrum of autism and ADD/ADHD disorders. Using the DAN! (Defeat Autism Now!) protocols, but also adding Molecular Signal Therapy, Dr. Lieberman has been very excited about the progress achieved by many of these young patients.

In 2002, Dr. Lieberman was awarded the prestigious Herbert J. Rinkel Award for academic excellence and achievement in the field of Environmental Medicine.

As of 2007, he will celebrate 47 years in the active practice of medicine. He continues to teach not only his own patients (and their parents), but also lectures at the American Academy of Pediatrics annual meetings and at the International Conference of Man and His Environment, held annually in Dallas, TX. In addition, he is still an active research scientist with Beech Tree Laboratories. He and his wife Jeanne, a Registered Nurse with a Masters Degree in Education, recently celebrated 38 years of marriage, and enjoy a happily overflowing family life with their three sons and eight grandchildren.